Safe and Simple Practices for Seniors and People with Health Challenges
Movement, awareness, and relaxation practices are essential tools of self-care for maintaining health, ease and dignity throughout our lifespan. However, for older adults and people with health challenges, safety is paramount and the particular requirements for this population are often not clearly understood within the yoga community.
Based on the pioneering Yoga for Seniors teacher training—offered at Duke Integrative Medicine and the Kripalu Center for Yoga and Health, Kimberly Carson and Carol Krucoff's careful approach is informed by their own extensive experience working with seniors in medical settings as well as important movement guidelines endorsed by the scientific research community. This has enabled them to create safe, effective and enjoyable practices that are accessible to virtually anyone who can breathe.
The Relax Into Yoga for Seniors DVD provides the following benefits:
Maintain or increase strength and mobility
Promote balance, flexibility and confidence
Develop relaxation skills for mind and body
Provide accessible practices for people of all ages, fitness and mobility levels
Highlights include:
Seated Sequence: Poses are done seated in a chair
Seated and Standing Sequence: Standing poses are done near a sturdy chair
Up and Down Sequence: Poses are done lying down, seated in a chair and standing
Bed-Based Sequence: All postures are done lying down
Relaxation Sequence: Seated practice to calm your nervous system
Core-Strengthening: Postures to strengthen the abdomen and back
Balance-Building: Standing postures to promote strength and stability
Special features:
Large English Subtitle option for all material
Bonus MP3s for portable practice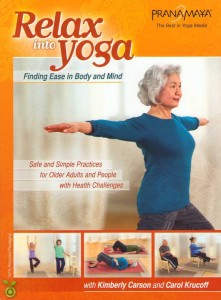 Buy Now
"Carson and Krucoff's DVD Relax Into Yoga is a product any health professional can recommend with confidence. Not only is it "Safe and Simple", it is Smart. The guidance, the simplicity and most important, the accessibility set it apart from any other instructional DVD on yoga in the market. As a more frail population seeks the healing benefits of yoga, this DVD will serve as a gold standard for safety for all future productions."

–Matthew J. Taylor, PT, PhD, ERYT-500, Past President of the International Yoga Therapy Association